Customer centricity means putting the customer at the center of everything you do. As the customer experience evolves, companies slowly shift towards a customer-centric, data-driven approach. From catchphrases such as "we put the customer first" to "the customer is always right," it's fast becoming a value businesses promote frequently. But with a growing number of options on where and how to buy, consumers are empowered to be more selective than ever. And more than half of buyers still believe that companies need to have a deeper understanding of their priorities and preferences.
According to Forrester, customer obsession is an increasing success factor for organizations around the globe. Customer-obsessed companies put the customer at the center of their leadership, strategy, and operations — leading to tangible business results. In a world where more than two-thirds of businesses compete mostly based on customer experience (CX), how can your business show that it puts customers first? You can start by developing an efficient customer-centric model to offer the products and services your customers want most in the way they want them.
Although businesses are leveraging breakthroughs in disruptive technologies to deliver personalized customer experiences, only 10% of customers say that brands meet their expectations for a "good experience." So, there is a huge opportunity for organizations to fill that gap with meaningful consumer engagement tactics. When it comes to customer journeys, convenience, accurate product information, and a straightforward yet compelling buying experience are top priorities of busy consumers. Customers today prefer to engage directly with brands to quickly access valuable and accurate information – and that's where personalized experiences through PIM come into the picture.
But first, let's dive into what customer centricity means.
What is customer centricity and why is it important?
Customer centricity is a way of doing business that focuses on creating positive customer experiences through the full set of products and services that a company offers. A company with a customer-centric culture eliminates siloes in digital and in-store experiences to delight buyers. While customer centricity isn't new, it's increasingly used in the context of digital marketing transformation, customer experience management, and a customer-oriented business approach, among others. But being a customer-centric company takes more than keeping your customer in mind.
These companies solve problems preemptively, remove friction, and meet customer needs in innovative ways. In turn, customer-centric organizations are 60% more profitable compared to other companies. They often embrace new trends and future-ready technologies like machine learning (ML), artificial intelligence (AI), and predictive analytics to deliver hyper-personalization. For today's organizations, becoming more customer-centric is a core business requirement. When faced with data management issues, cost pressures, and rapidly shifting consumer behavior, developing a customer-centric culture can help businesses stay a step ahead of the competition.
What are the benefits of customer centricity?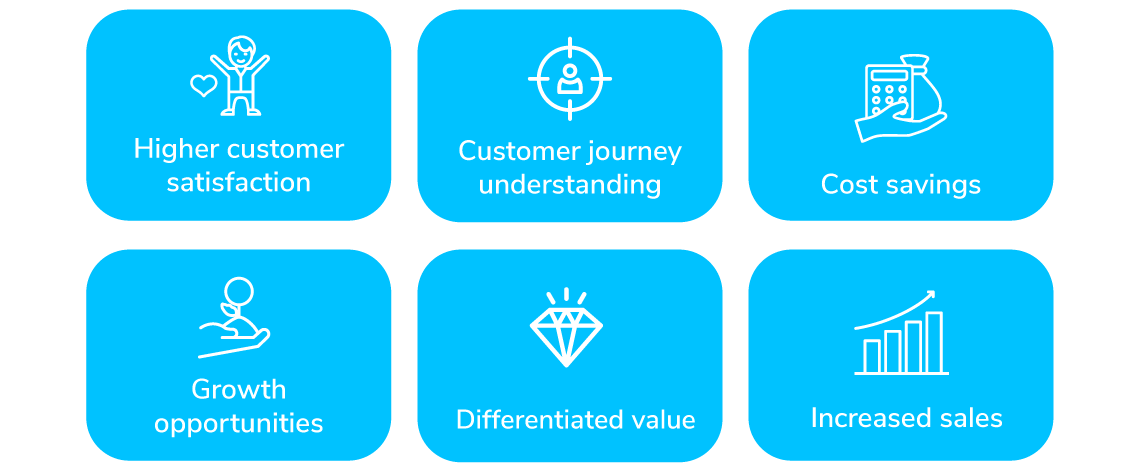 Benefits of adopting a customer-centric strategy in your organization.
Businesses that take the necessary steps to understand their customers and then use that understanding to create a powerful organizational culture are reaping the rewards. Some of the advantages of customer centricity include:
Higher customer satisfaction
A customer-centric business strategy increases customer satisfaction. The purpose of customer centricity is to find out what customers like and dislike, and tailor products and services to better fulfill those needs and eliminate friction. High customer satisfaction makes customers more likely to come back in the future.


Customer journey understanding
The more you know about your target audience, the better you will understand the customer journey before, during, and after the sale. One of the key concepts of customer centricity is understanding why and how customers buy. This will help you act on your insights to boost conversions and provide better services and products.


Cost savings
You can dramatically reduce costs and achieve greater operational efficiency with the right customer-centric approach. By pursuing cost reduction with a customer focus, you can be more effective in customer acquisition and retention and implement the strategic initiatives best aligned with customer value.


Growth opportunities
In getting closer to your customers and market, you'll take advantage of growth opportunities, such as unfulfilled customers. When you take a more customer-centric approach, you'll identify new ways to sell or promote your services and new customer segments and niches you could target to raise revenues.


Differentiated value
For many companies, it can be costly to stand out as the most innovative and almost impossible to compete in terms of price. So, becoming a leader in understanding your customers can become your biggest asset. In this position, prospects are more likely to choose your products or services because they assume you are better equipped to solve their problems and anticipate their needs.


Increased sales
Customer centricity generates positive long-term results in terms of sales and profits. When businesses support customers along their journey, they help them become more informed, consider their options, and make the right decision. Customers will spread the word about how great your business is, and your online ratings and reviews will reflect it.