Does your company need a webshop or a PIM solution first? The quality of your product data and your channel strategy determine whether you need to consider implementing a PIM or an online store first. Basically, the lower your product data quality is, the sooner you should integrate a PIM solution. For ecommerce brands, accurate, high-quality, and consistent product information is key to ensuring business agility. On the other hand, unorganized, poor-quality product data can negatively impact your online business – potentially costing time, revenue, and customer confidence. In fact, 40% of consumers have returned an online purchase due to inaccurate product content.
That's why Product Information Management (PIM) is top of mind for ecommerce companies whether they sell B2B, B2C, or both. A successful online shop will almost always watch its product offerings grow by the year. Initially, managing a webshop might not take up much time. But as the number of products increases, it will be harder to manage everything. Once product lists reach the hundreds, the use of PIM software will be essential.
Selling online is not as simple behind the scenes as it may seem on a product page. And it's often solutions like PIM, coordinated across departments, items, and vendors, that make it all work. PIM and digital commerce sites should work together seamlessly. A capable PIM can empower your team on the backend to maximize efficiency across multiple sales channels and provide your customers with accurate, engaging, and up-to-date product content. On the front end, your webshop can efficiently present the products and their data with a user-friendly interface and facilitate orders and returns.
Product Information Management (PIM) is key to building a successful webshop
Accurate and complete product information ensures consumers feel they can trust companies and their products, especially when buying online. As much as 56% of shoppers value product information now more than ever and may opt out of doing business with a retailer whose information doesn't have correct product descriptions. If attributes are missing from the product descriptions, organizations lose credibility with consumers. To ensure that your online store is the best possible resource for shoppers, you must provide detailed, complete, and accurate product information so that they can easily access and fully understand the product's attributes and benefits.
As you can see, there is no "versus" between PIM and the webshop. A PIM solution helps ecommerce brands collect, cleanse, enrich, and distribute product information across multiple customer touchpoints. It acts as the organization's central repository for product content and a hub where internal collaboration can thrive. Why is this crucial? The more data you have, the more complex it becomes to manage. A manual, siloed approach usually generates errors, operational inefficiencies, and other business-critical issues, eventually leading to higher operating costs, revenue loss, and customer dissatisfaction. PIM software also helps improve product experiences and can even speed up time-to-market by 75%. Companies can entirely focus on winning on the digital shelf by eliminating the challenges around managing product information, such as inaccuracy, incompleteness, inconsistency, etc.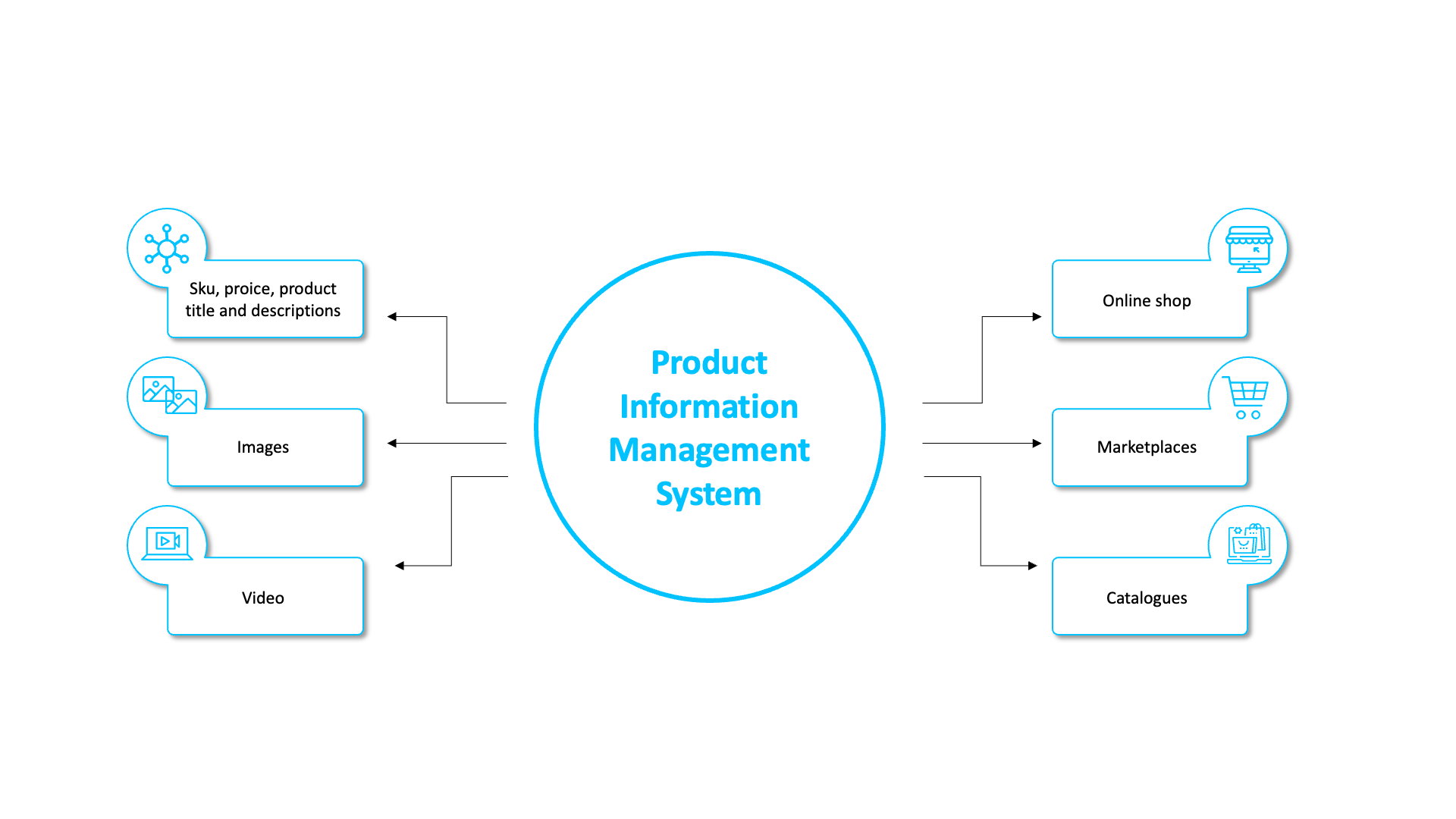 What is the difference between a webshop and PIM?
Ecommerce systems like Magento, Shopify, and WooCommerce can be similar to PIM. You can host your products and some of their associated data, including images. However, webshops are not purpose-built for handling product data and therefore need more of the features and benefits of a PIM system.
With a webshop, businesses can:
Easily set it up
Webshops are generally built so that it is easy for someone with little technical expertise to get a store up and running.
Customize
Themes, localization, additional widgets and integrations, customer support chats, etc., can all help give your brand its own look and add to the customer experience.
Facilitate order and payment
Webshops are built to simplify online orders and payments and allow you to sell efficiently online. A secure and reliable payment system is critical for any ecommerce business.
Host multiple storefronts
Many ecommerce systems allow you to host multiple storefronts for different regions. This helps personalize visitors' shopping experiences based on their preferences and behaviors.
With a PIM, businesses can:
Provide multichannel sales


U

p to 73% of customers use

multiple channels

during their shopping journey.

With a PIM system being the central source for your product data, you can easily distribute it to various channels and marketplaces. This increases the potential pool of customers you can access, thus increasing revenue and customer loyalty.
Manage digital assets
Within a webshop, it's usually only possible to house media assets that are linked directly to a product. Within a PIM system, you can hold all media assets, whether they are associated with a product or not. You can also store information you don't need your customers to see on the webshop, like product datasheets or safety datasheets.
Offer up-to-date product content
Using a PIM system, you can bulk edit content to update hundreds (or even thousands) of products simultaneously and ensure that information is accurate and up-to-date.
Provide consistent and rich product information.
With PIM, you can provide consistent product information across any channel you use. With validation and permissions settings in place, you can ensure that there are fewer errors in the product data.
Distribute contextualized content
PIM enables you to automatically distribute contextualized content to different storefronts to address different target groups and personas with a personalized product presentation based on the same basic product information.
When does a digital business need a PIM?
If you're a digital business, you're probably spending a lot of time trying to streamline your marketing and sales activities. PIM comes in handy by creating an excellent product experience that boosts sales, improves time efficiency, and enables omnichannel personalization at scale.
Are you still fid about integrating a PIM solution into your webshop? Well, look at six key signs indicating you need a PIM solution. If they do ring a bell, this situation spells trouble for your online business:
You're managing thousands of SKUs
Managing countless product SKUs is time-consuming. Each SKU comes with unique data, covering everything from pricing and style to product color, size, and material. So, you will deal with hundreds of data points for a single product.
You can't keep track of all this information manually
PIM removes the pressure of managing a high volume of SKUs. As it provides a single source of truth for your product data, tracking and organizing all information is more accessible, ensuring accuracy and consistency.
You're selling through more than one channel
Different channels and marketplaces have different product data requirements and different customer bases, so you must cater to different customer expectations. Customizing your data for these channels is easy when you have a central database to manage product information.
Your process of introducing new product items is slow
Without a PIM solution integrated into your webshop, it looks like a nightmare to expand your digital shelf and add new content, including SKU descriptions, digital assets, item specs, and prices.
You want to reduce product return rates
With PIM software, you can provide the right amount of detail for a product, so consumers have everything they need to make informed purchases. Similarly, digital assets (videos, images, size charts, etc.) give customers a more comprehensive look at what they're buying.
You want to create exceptional shopping experiences
Product content is at the heart of the customer experience. Detailed product descriptions and high-quality digital assets contribute to a memorable shopping experience. PIM allows you to create unique product descriptions that appeal to consumers' emotions and needs.

What is achievable with PIM and ecommerce working together?
Customer experience is essential for all businesses, but it is particularly vital for the success of digital companies. When you sell online, your customers can leave you for your competitors with only the click of a mouse or a few taps and swipes on their mobile devices. Giving online shoppers the product information they need can help you keep them on your webshop and even increase conversion rates by 35%.
But with PIM acting as a central hub that syncs across your tech stack, you can easily streamline your ecommerce workflow. When your PIM solution stacks up with other digital tools, it boosts the whole business performance by enriching, planning, organizing, and publishing meaningful product data. With PIM integrated with your ecommerce comes much room to grow and scale. It reduces the amount of manual work your team needs to do and creates a lot more consistency across your entire company.

"Maintaining and enriching product data without a PIM system is very difficult."
Heinz Krienbuehl, Head of ecommerce at Bucherer AG
How does an ecommerce business benefit from PIM?
Today, businesses can only digitally thrive with high-quality, accurate, and up-to-date product information. Organizations looking to speed up product launches, improve their product experience, increase the time efficiency of their teams, grow internationally, and ultimately increase their revenue would enormously benefit from a PIM. Here are the main advantages that a PIM-ecommerce integration can offer your business:
Increased conversion rates
Conversion rate is one of the most critical KPIs in ecommerce and one that a successful PIM implementation can positively impact. PIM can help increase conversion rates by ensuring potential customers can find the products they are looking for and have all the information they need to make a purchase decision.
Increased automation

One of the most significant benefits of integrating a PIM system in your ecommerce is that it helps you automate previously manual tasks. Modern PIM systems have logical engines that can be configured to execute rule-based operations, freeing up a lot of time. Examples of processes that can be automated with PIM include creating consistent product names out of attributes and categorizing products based on rules.




Localization and translation
Expanding into new markets requires translation and localization. Different safety requirements, legislation, and cultures mean adapting your content to the local context. Translating all your product information is managed much easier with a PIM solution than manually through, for example, spreadsheets. With PIM, you can scale your ecommerce business with more ease.
Product personalization
Based on intelligent data-driven algorithms, PIM enables you to exceed customer expectations and give shoppers the right product information to fully satisfy their needs. As a result, you gain positive feedback with low product returns that eventually drives customer loyalty.
Strengthened omnichannel presence
Creating cross-channel product information that is consistent, accurate, and up-to-date is challenging. With a PIM toolkit on board, you can efficiently manage product content on several platforms and limit errors and duplications while easily updating item prices, catalogs, references, SKUs, etc.
Improved customer satisfaction
PIM software is built to tackle the problems companies repeatedly encounter in managing product information. With the right data governance strategy, businesses can gain a holistic view of their data's quality at all stages of the product experience management process. This helps improve the customer experience.
Efficient in-store up-sells and cross-sells
PIM enables businesses to sell bundles of related products. It groups them together based on common attributes, promoting cross-selling and up-selling. It allows you to offer and sell many more associated SKUs simultaneously to maximize profit.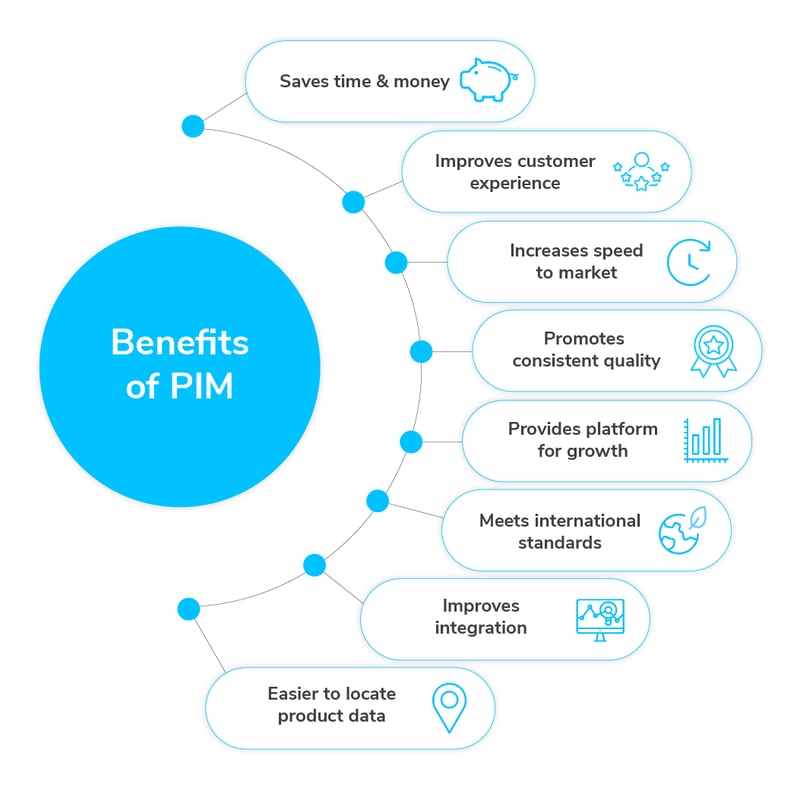 Scenario-based approach
Now that you know the benefits of connecting PIM with your webshop, let's explore how an online store can work with or without a PIM.
A webshop without a PIM
You already systematically record your product information in different systems adapted for this use, e.g., Excel, ERP, image databases, etc. You could also store product data directly on your ecommerce platform. However, keeping track of everything can be difficult as your webshop and entire operation grow. An Excel spreadsheet, for example, will not be infinitely scalable and will become cumbersome. You cannot export data from the ERP system directly to the webshop. Data stored in the webshop system cannot be used now in other channels, such as catalog files or data sheets. So, what now appears to be an easy solution for managing product information may quickly become an obstacle when your product lists start to grow or when the channels where you publish and distribute your data increase.
Then, it would be best if you also considered the human factor. People make mistakes more often than machines. If, by accident, changes, including incorrect descriptions and prices, are saved to a large part of the assortment, they are immediately visible in the store. If shoppers buy products with the wrong description or at an incorrect (e.g., much lower) price, the consequences can be very costly. This also hurts the brand's image and credibility.
A webshop integrated with a PIM
You have a webshop, a CRM, marketing automation, and ecommerce tools, and finally, you integrate a PIM system that handles the product catalog as well as a number of other tools that you use in your daily work. Its entire ecommerce ecosystem is built as microservices. If one of the elements stops working, it will not affect the overall operation of the webshop. Another significant advantage of a PIM system is the streamlining of internal processes. You can automate time-consuming manual processes and work more efficiently to collect, add, and manage product information, reducing your time-to-market and freeing time for more value-adding tasks.
Without a PIM system, data is often fed into the shop from various sources, usually without sorting, cleaning, or filtering. Collating extensive data from many different systems in the online shop is very time-consuming and error-prone. A PIM system prevents this problem as the webshop is assisted by a potent solution that feeds its product data through just one interface. Instead of a fragmented picture, where some product information is in your ecommerce platform, some in your ERP, and some in your CMS, you ensure a "single source of truth" for all product data. By only creating and maintaining product information in the PIM system and synchronizing it with your webshop, your product information will always be up to date — and your customers will get better product experiences.
Get started with Contentserv PIM
Because product information plays such a vital role in your digital commerce success, it's critical to have a dedicated solution that makes the process much easier. Contentserv's Product Experience Cloud can help you manage product content at scale, streamline the creation of compelling customer experiences, and unravel new business opportunities. It combines product information and rich media with contextualization to personalize experiences with relevant product content at every touchpoint along the customer journey. Contentserv integrates seamlessly into your existing IT landscape and ecommerce ecosystem, tying all your data sources together to give you a single source of truth – which means that your teams will always have up-to-date product information at their fingertips.