More than products or services, consumers are now purchasing stories and experiences. They expect their journey towards a purchase to be seamless, no matter where they shop. Beautiful images and precise product descriptions do inspire shoppers to purchase, but most e-commerce sites fall short. This is where shoppable content comes in.
Shoppable content is rapidly transforming the e-commerce space. An eMarketer survey found that 43% of consumers are excited to experience shoppable content. Moreover, according to DemandGen, 91% of shoppers prefer interactive and visual content that can be accessed on-demand. With consumers expecting seamless shopping, it is important for brands to create more shoppable content – thus blurring the lines between content marketing and e-commerce.
But what is shoppable content and why does it matter?
According to Styla, "shoppable content is any type of content (i.e. images, articles, videos, etc.) that provides a direct purchasing opportunity to consumers to buy the products right from the content they are viewing in real-time." The key idea is to merge the point of inspiration to the point of sale by satisfying the immediate desire to purchase - through content.
Shoppable content matters simply because it appeals to customers. Furthermore, for brands, shoppable content helps drive traffic and conversion: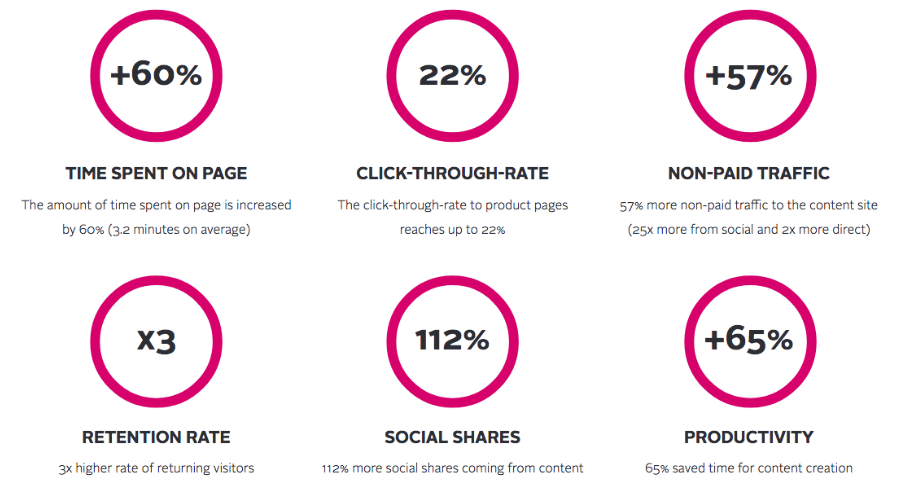 Source: Styla
Types of shoppable content
The shoppable content experience looks like this:


Source: Styla
Ideally, shoppable content must involve just one to three clicks, at most, between when a shopper finds the product to finally buying it. A shorter path to purchase means more engaged customers, which leads to higher conversions and ultimately higher sales.
Here are some types and samples of shoppable content:
Images
Shoppable images are crucial for any e-commerce business because it drives customer engagement. In fact, 34% of marketers prefer to use images over videos. The value of images can be increased by adding shoppable tags or a "hotspot mark" to each image. A shopper can click each product image and the tag opens a pop-up window that contains details of the product, its price, as well as a CTA button to add to the cart and proceed to checkout.
What it looks like:
In this example, home furnishing store chain Pottery Barn relies on beautiful imagery to showcase their products. Potential customers can easily get a glimpse of how the piece would look like in a specific setting that piques their interest. Moreover, the "hotspot marks" imply that the image is clickable in order to learn more about each product, and easily add it as an additional item to purchase.
Videos
Videos are powerful storytelling tools that account for 80% of online consumer traffic. Shoppability can be added to videos by embedding ads for products it features. Like with images, clickable hotspots can be included in the video. Shoppers are then directed to another page or to a pop-up window to complete the purchase.
What it looks like:
Source: Ted Baker
Fashion house Ted Baker is ahead of the game with its multiple shoppable video campaigns. Customers are engaged with unique storytelling while being given the option to purchase whatever item or product interests them.
Blog posts
Blog posts are already influential by themselves. In fact, 57% of online marketers who utilize blog posts say they get more customers by publishing blogs. Adding integrated "quickviews" to blog images make them shoppable, and customers can then easily add products to their cart as they get inspired without interrupting their reading experience.
What it looks like:
Lifestyle website Linen Chest creates blog posts for readers looking for everyday inspiration. Their posts are elevated with shop-the-look features while sharing tips, trends, and best practices. Images of items and products used are tagged with "hotspots" that let readers know they can check out the item as they read.
Social Media
Social media platforms could be considered the pioneers of shoppable content. Social media has billions of users and is a melting pot of information about products and brands. Therefore, it's another channel for brands to further their reach. By merging social media and e-commerce, big and small brands that caught on early are reaping the rewards.
What it looks like:
Pinterest and Instagram are platforms that are winning at showcasing shoppable content. Pinterest created "buyable pins", where pinners can directly purchase products directly within the app. Instagram adds a shopping bag icon to posts that can take users directly to a company's product page.
Digital Magazines
Digital magazines are a growing trend because they're known to show striking visuals. To make it shoppable, buying option links that redirect shoppers to the relevant product pages can be added.
What it looks like:
Digital magazine The Edit by Net-A-Porter can be accessed through the Net-A-Porter app. Customers can download the app and then shop directly from the magazine by hovering over any product image, or by adding each image to their shopping bag.
The future is personalized product content
Traditional digital content is no longer enough because it lacks what consumers demand today. Armed with smart technology, consumers will always go for what is personal, easy, fast and on-demand. Therefore, brands need to provide experiences that are both personalized and accessible.
Employing shoppable content strategies allows brands to have a better chance of recognizing elements that encourage consumers to buy. By leveraging the power of data, brands can formulate informed and enticing content that inspires their consumers. Furthermore, with the use of the right technology, brands can personalize content to their customers' specific preferences.