Munich, Germany/Paris, France/New York, USA — October 10, 2023 — Contentserv, a leading provider of Product Information Management (PIM) systems, today announces the entering of exclusive negotiations for the acquisition of the France-based software company Shoppingfeed. With over 1,000 customers in Europe and the USA, Shoppingfeed specializes in marketplace and feed management solutions.
With that, Contentserv is in the process of expanding its offering and Contentserv's capabilities for efficient information publication on marketplaces such as Amazon, eBay, and Zalando, as well as digital marketing channels like Google Shopping and Instagram Ads. This strategic move represents the completion of Contentserv's product portfolio into an AI-driven end-to-end solution, exploiting the full Digital Shelf potential, seamlessly integrating features such as turnkey marketplace integration, automatic feed updates, optimized listings, inventory and price management, performance analytics, and much more.
Shoppingfeed, an established company with a strong presence in both France and the United States, would now connect the products managed by Contentserv with the world's most powerful marketplaces, synchronizing inventory and automating order processing. The projected tie-up between Contentserv and Shoppingfeed, combined with technical integration into Contentserv's Product Experience Cloud (PXC), would allow joint customers to harness the combined performance of both solutions seamlessly.
Julien Hugonnet, CEO of Team T4, says: "We are already Contentserv and Shoppingfeed clients. The possibilities of the integrated solution are huge. We are looking very much forward to further driving efficiency gains and revenue uplifts with the combined product stack."
"Our vision is to redefine the PIM market with AI-powered technology and transform PIM from a product data backend into a top-line-driving Product Experience Management. With the combination of both solutions, our customers can generate significantly higher reach and increase conversion rates with better content at touchpoints. If everything goes as planned, as it luckily appears to be so far," says Michael Kugler, CEO of Contentserv, regarding the synergies identified between the two companies.
"The high spontaneous interest in our joint solution offering demonstrates the market demand and underscores Contentserv's potential to help existing and new customers successfully tackle the challenges of the increasingly complex e-commerce market," adds Olivier Levy, CEO of Shoppingfeed.
The transaction remains subject to the satisfaction of condition precedents and completion of the information and consultation procedure of Shoppingfeed Works Council.
Independent research and consulting company Forrester estimates in its "US Online Retail Forecast, 2023 To 2028" report, that by 2028, e-commerce's share of the market in the USA alone will grow to 28%: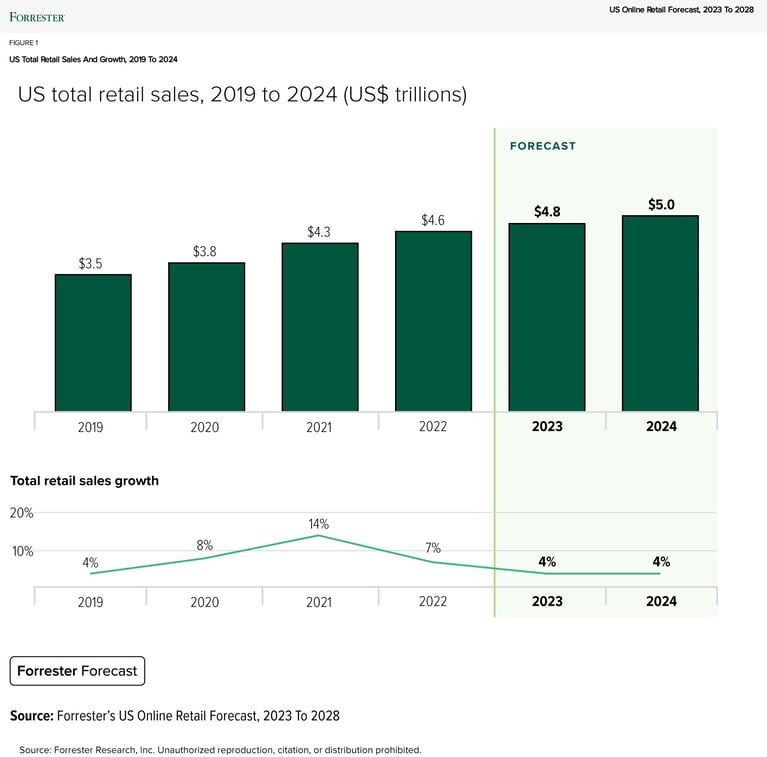 And in the "Europe-5 Online Retail Forecast, 2022 To 2027" report, Forrester predicts that the "Big Five" of Europe (Germany, France, the UK, Italy, and Spain) will increase from 16% in 2022 to 22% in 2027: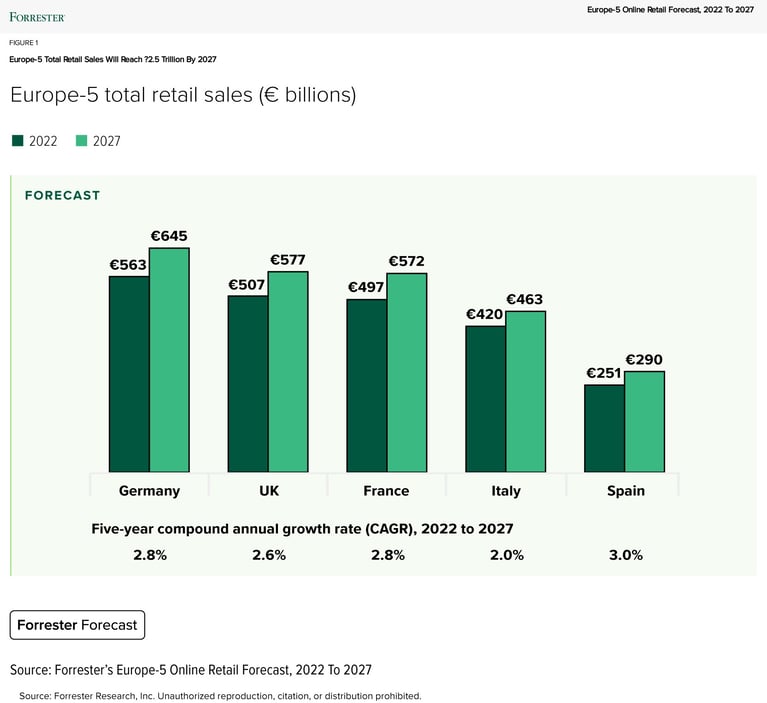 Analyst firm Gartner also expects global e-commerce growth from $10.4 trillion in 2020 to $25.2 trillion in 2027. The growth is driven by advancing digitization, particularly the proliferation of sales channels, such as social media.
Consequently, the PIM market is also poised for substantial growth. Companies with Contentserv's Product Experience Cloud can achieve revenue growth through personalized and rich content creation. By focusing on collaboration, governance, and automation, Contentserv empowers its customers to make data-driven decisions by providing understandable insights instead of raw data points.
About Contentserv
With the Product Experience Cloud, Contentserv enables manufacturers, brand owners, and retailers to unite, optimize, and distribute product content that was previously fragmented and scattered in a single source of truth across all channels — through an easy-to-use, AI-fueled cloud platform. With optimized product content, companies and IT teams can focus on delivering rich, relevant, and emotional product experiences that strengthen their brand and delight customers.
About Shoppingfeed
Shoppingfeed is an e-commerce feed management platform that helps organize products on over 1,000 channels such as Amazon, Bing, Facebook, eBay, Etsy, Instagram, Pinterest, Snapchat, and many others while managing prices, stocks, and orders. It can seamlessly integrate items into marketplaces and assist in creating new offers as well as synchronizing with existing ones.
Disclaimer - Certain information contained in this press release may include projections and forecasts. Such statements are not guarantees of future performance of Contentserv. Actual results or performances may differ materially from those in such projections and forecasts as a result of numerous factors, risks, and uncertainties.
Media Contact
Petra Kiermeier
Director of Global Marketing Communications, Contentserv 
pr@contentserv.com 
T +49 8442 9253 800