Reports and surveys
The state of Product Information Management in Japan 2023
Discover the insights from our new PIM awareness and implementation survey in Japan.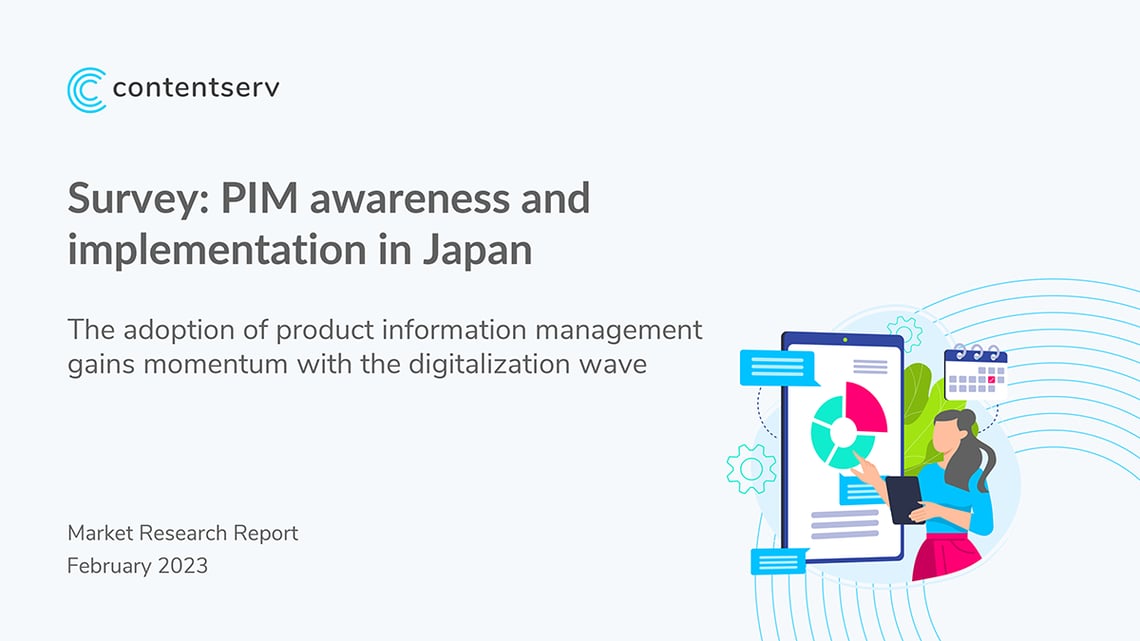 PIM adoption in Japan
Customers have more access to information, businesses, and options than ever before. They want the convenience of relevant, complete, and trusted product information that allows them to make a purchase decision on the spot. For businesses, this means that product data must be accurate and support the growing need to sell across multiple channels. That makes product information management one of the biggest challenges for manufacturers, product managers, and retailers today. And it's the reason why companies worldwide are turning to Product Information Management (PIM) systems to make product information management more agile.
The state of Product Information Management 2023
Contentserv conducted a survey on PIM awareness and implementation in Japan, which addressed employees of manufacturing and retail companies with more than 10,000 products. The survey uncovered the main challenges and goals of employees handling product information. It found that, in Japan, PIM is mostly being introduced by technology-driven companies, with PIM's adoption rate at 13%.
The survey shows that Japanese manufacturers and retailers are aware that fragmented product information management hinders digital operations. To shorten the time to market and optimize the customer experience, it's crucial to transform the siloed product information management process into an effective, cross-organizational approach. Indeed, one of the key factors driving the growth of the PIM market in Japan is the surge in demand for a centralized system to store data. Companies seek to use solutions that can centrally manage product information and integrate it with other existing systems.
When asked about the biggest challenges in product information management, the most common responses were that product information is "spread across multiple systems and databases," "it isn't managed or controlled," "it isn't kept up to date," and "it takes time to prepare." Overcoming these barriers can make the difference in unlocking a competitive edge, operational efficiency, and regulatory compliance while increasing customer satisfaction.
The survey also revealed that PIM adoption is progressing among leading companies as digitalization accelerates and ecommerce sales increase. When asked about the adoption rate of PIM, 62% of respondents weren't familiar with it, while 38% were aware of it. Of those that knew about PIM, 13% already use it, and 25% don't use it so far. And when asked if they would use PIM, 34% said they were interested in using it in the future. Additionally, those involved in product information management highlighted the importance of providing accurate and engaging product information in sales channels tailored to different customer needs and stages of the customer journey.
Key findings from the survey
Companies are struggling with managing product information that is stored in multiple systems and databases and that is not kept up to date.
To meet rapidly changing business needs (diversifying sales channels and increasingly complex customer needs), companies face a "lack of centralized product information management."
"Centralized management" and "integration with various systems" were cited as the most attractive functions for managing product information.
49.7% of respondents use 2-3 or more data sources to gather product information, 20% use 4-5 or more, and 14.7% use 6 or more.
More than 60% of companies consider "accurately conveying product information" and "conveying the product's appeal" key factors in handling product information in marketing and sales.
More than 10% of respondents have already introduced PIM, and 34% are planning to implement it.