Product experience management (PXM) is the art of creating relevant and compelling product experiences for your buyers. Given how competitive the retail space is and how demanding modern consumers are, embracing this customer-centric approach is becoming more important than ever. Today's buyers no longer base their purchases on price and product alone; they also focus on their experience with a brand. In fact, 73% point to experience as a key factor in their purchasing decisions, behind price and quality. Because of this, more than 65% of companies are increasing CX spending in 2023 by an average of 24%.
This article will explore the concept of product experience management, what it is and why PXM is critical to communicating brand identity and creating emotional connections with buyers. We will also look at the top 5 product experience management trends today.
What is Product Experience Management (PXM)?
Product experience management is a comprehensive approach to the new consumer demands that encompasses all interactions with the product and services. This method enables you to deliver product information (managed in a product information management (PIM) system) that is contextualized based on the channel, needs and location of consumers. It's not a specific tool or platform, but rather the experience that surrounds a product.
According to Gartner, PXM extends PIM software in one or more of the following capabilities:
Product content analytics

Personalization

Contextualization

Automation and optimization using machine learning/artificial intelligence (ML/AI)
PXM leverages AI and machine learning tools to provide the optimal product experience that is dynamic and tailored to the consumer's requirements across all commerce platforms. As personalization became more crucial for ecommerce, with 71% of consumers expecting brands to deliver personalized interactions, PXM has emerged as a popular marketing tactic.
Why do companies need Product Experience Management (PXM)?
It's no secret that relevant, accurate and complete product-related content increases sales and strengthens brand loyalty. Customer experience is not just about displaying your products' features. It's also about how your customers interact with your offering and feel about it. Attracting and retaining customers requires seamless and comprehensive product data integration. It not only allows you to provide consumers with the information they need to make a purchase decision, but also gathers relevant insights about them. With this, you can create a meaningful profile of your customers that enables you to deliver truly personalized product experiences.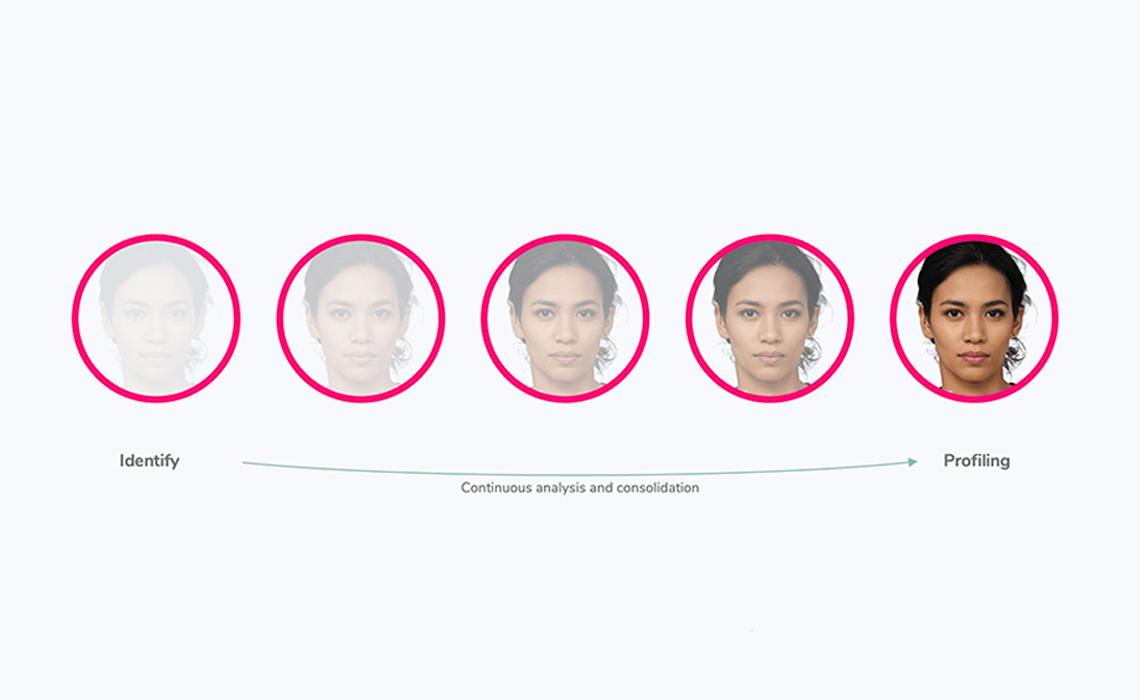 The better your customer insights the more targeted you can provide a personalized product experience
These are the main reasons why you should consider PXM:
To create a single view of accurate and complete product data across all customer touchpoints

To reduce time to onboard information relating to new products

To optimize

omnichannel customer experiences

To easily assemble product bundles required for events, promotions or campaigns

To deliver meaningful and timely product recommendations

To strengthen customer relationships and build brand loyalty

To better manage supplier information and improve the relationships with suppliers

To facilitate the creation of cross-selling and upselling opportunities

To enable and maintain personalized interactions across different channels

To improve the effectiveness of digital marketing strategies

To measure product performances, review the results and get a deeper understanding of customer buying behavior
In an experience-driven commerce world, with complex shopping journeys, it becomes vital to deliver product experiences that are relevant and customer-centric. Brands need to establish an emotional connection with the buyers to boost sales, build loyalty and increase the overall CLV (Customer Lifetime Value). You can do so by adopting the following trends.
Major trends in Product Experience Management (PXM)
Real-time intelligent customer experience management
The new standard for hyper-personalized customer experiences requires real-time intelligence across every interaction. With the volume, speed and variety of data being generated every second, there is a need for real-time data analytics to assess trends more accurately.
Customer experience management (CXM) has become smarter with artificial intelligence, machine learning and big data analytics taking a deep dive into the customer data resulting in actionable insights. It reveals latent needs, buying behaviors, product enhancement suggestions, the propensity of lead conversion, which customer is switching to another brand, etc. This leads to continuous improvement, unleashing new opportunities, increasing the customer base, developing better customer retention strategies and improving business revenue.
Nike, for example, is leading this trend with NikePlus, a loyalty program to interact with customers even when they're not buying from them. Customers can track their health and workouts, access personalized training programs and more via an app. And with more customer data and rich insights collected with this initiative, the company can further enhance the customer experience.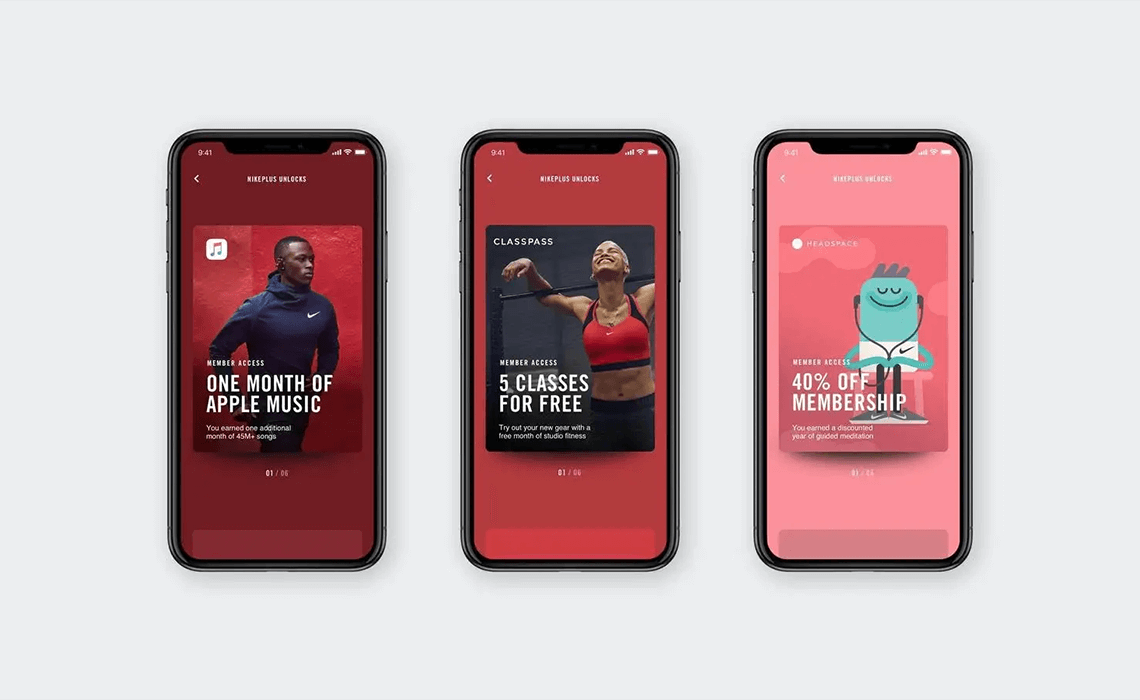 NikePlus is a loyalty program that offers a single account to access all personalized services and it's very widely used by Nike customers.
Artificial intelligence (AI)
Emerging technologies like artificial intelligence (AI) give exceptional benefits to companies looking to optimize the product experience — starting with product data quality. With the increasing complexity and volume of product information, ensuring data reliability and readiness manually is an overwhelming task. This is where the confluence of AI and PIM is creating new possibilities for businesses with data management trends changing the paradigm – especially in data onboarding, validation and normalization. By applying AI to the challenge of unifying data at scale, brands can also create a straightforward path for translation and localization processes.
More organizations are picking up on this trend, with the global AI software market forecasted to reach $126 billion in 2025. For instance, most construction companies are now using AI to make independent decisions on automating back-end, paper-based processes and providing machine-readable and consistent product information. Some of the most exciting recent advances in AI are in automated text generation, particularly the release of GPT-3 by OpenAI in 2020. This machine-learning model can generate any type of text based on internet data alone and offers endless possibilities for the future of customer service.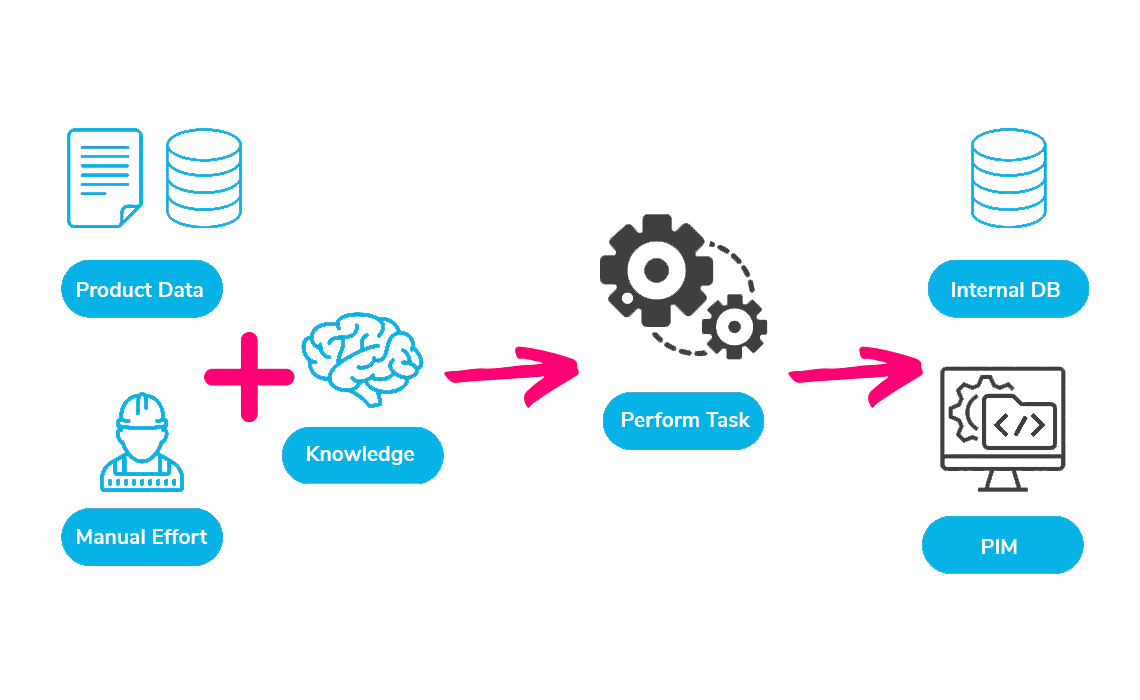 Combining the power of AI and PIM automates the process of enhancing product data and matching it with the right product categories.
Augmented Reality
Another technology that can enhance your customers' experiences is Augmented Reality (AR). You can use it to create a richer, realistic and appealing buying experience. By interacting (virtually) with the product or service, customers are more likely to feel attached. Imagine trying on a pair of shoes in a virtual fitting room that emulates the real thing and having them fit you well. Adidas made this possible through augmented reality with its iOS app.
IKEA is another brand employing this technology to allow users to see how a piece of IKEA furniture will look in their space or even to redesign it completely using IKEA's Studio app. Immersive experiences like these will help create stronger bonds with your brand and, therefore, increase sales. Augmented reality is still in its initial stages, but the possibilities are endless. There is no doubt that early adopters will reap the biggest rewards from this technology. Soon customers will come to expect this of their brands and suppliers in the same way that we currently expect our favorite brands to have user-friendly ecommerce websites.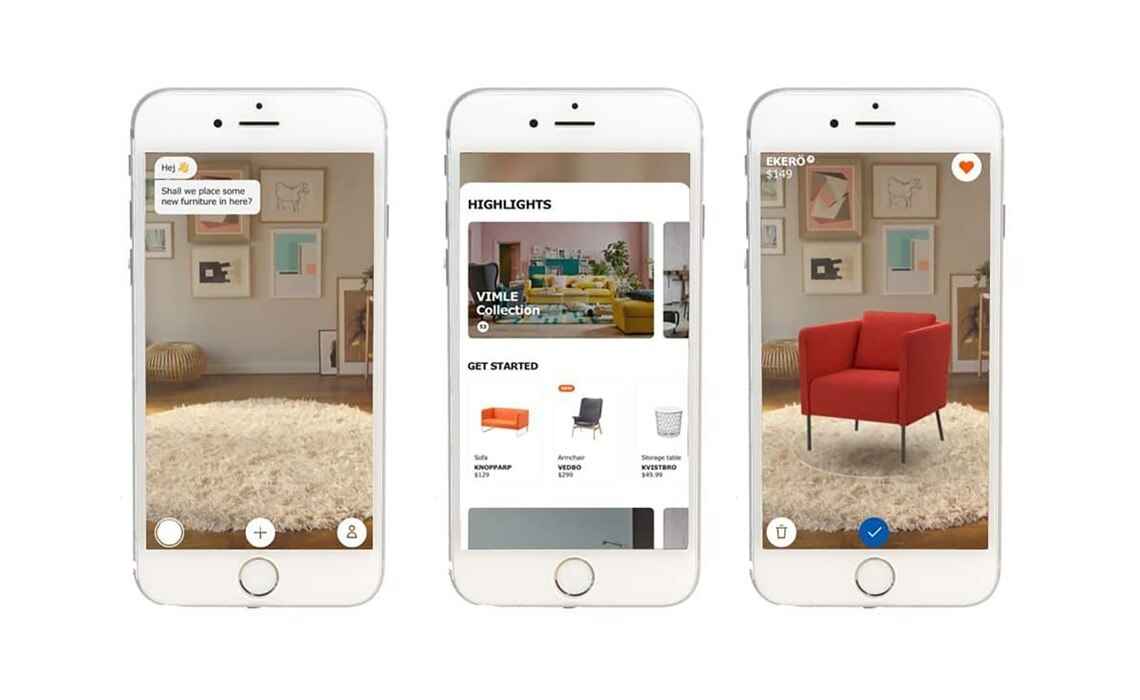 Ikea's app uses AR to give users an immersive experience and show them how a piece of IKEA furniture will look in their space.
Contextualization
Have you ever bought clothes or furniture while browsing social media? Paid for products through your Alexa app? Used a click-and-collect function, where you place an order online and pick up in-store? Many brands are already employing contextual commerce, leveraging the consumer's context to make sales. The context of the customer engagement, lifecycle phase, services and interactions with other channels should form the basis of the overall customer experience. By focusing not just on personalization but on contextualization, you can create the right environment for meaningful customer engagements.
Imagine you're traveling to a new city and with one app, you can hail a taxi, check into your hotel and make a dinner reservation, all while waiting in baggage claim. Uber is already making this possible through strategic partnerships with companies like Zomato and Hilton. It's the perfect example of offering a product or service users need precisely when they're thinking about it — right after landing in a new destination. Contextualization often starts with gathering real-time contextual data, enriching the profiles with new customer insights, creating engaging journeys, assessing customers' responses, optimizing the process accordingly so that the right messages reach the right customers, at the right time.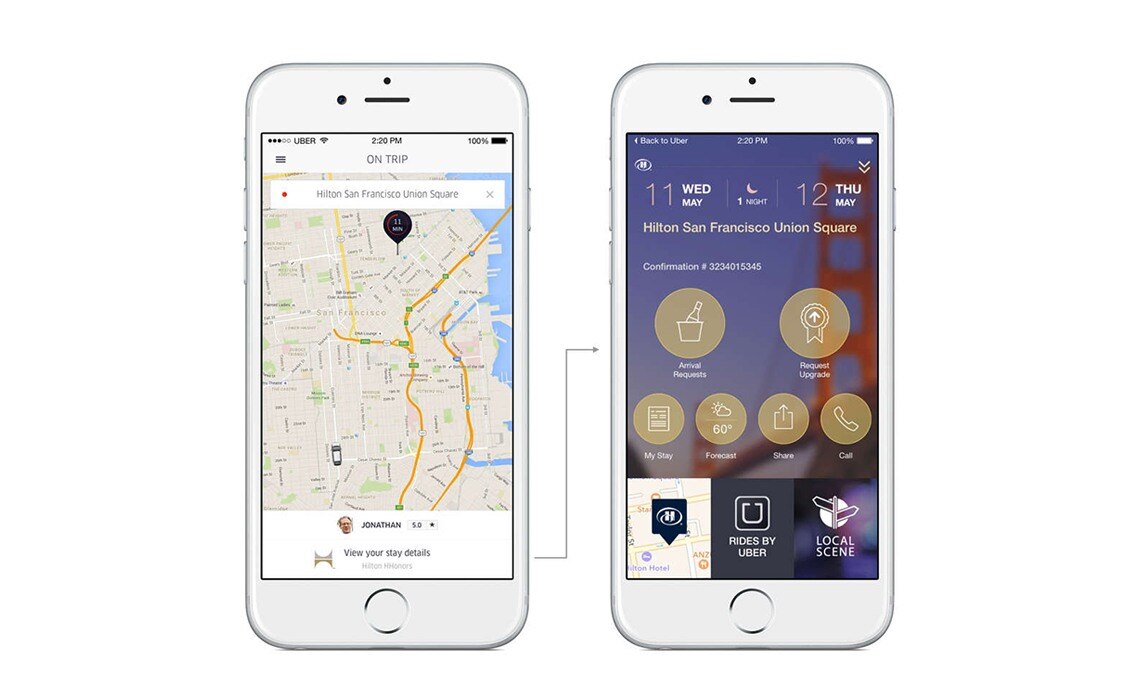 Hilton Worldwide has partnered with Uber to offer expanded digital features that further streamline the travel experience for Hilton guests.
Content personalization
According to a 2021 survey conducted in Western Europe and the U.S., almost half of consumers are likely to switch to a competitor when their expectations fail to be met by brands. Customers have now become accustomed to personalized experiences — and they won't expect anything less. In recent years, content personalization has become a game changer for brands and a solid reason for customers to stay loyal to a brand.
Amazon is arguably one of the best examples of content personalization, with the company's home page fully personalized for each customer. Users can see reviews of sellers, products and buyers, as well as relevant product recommendations.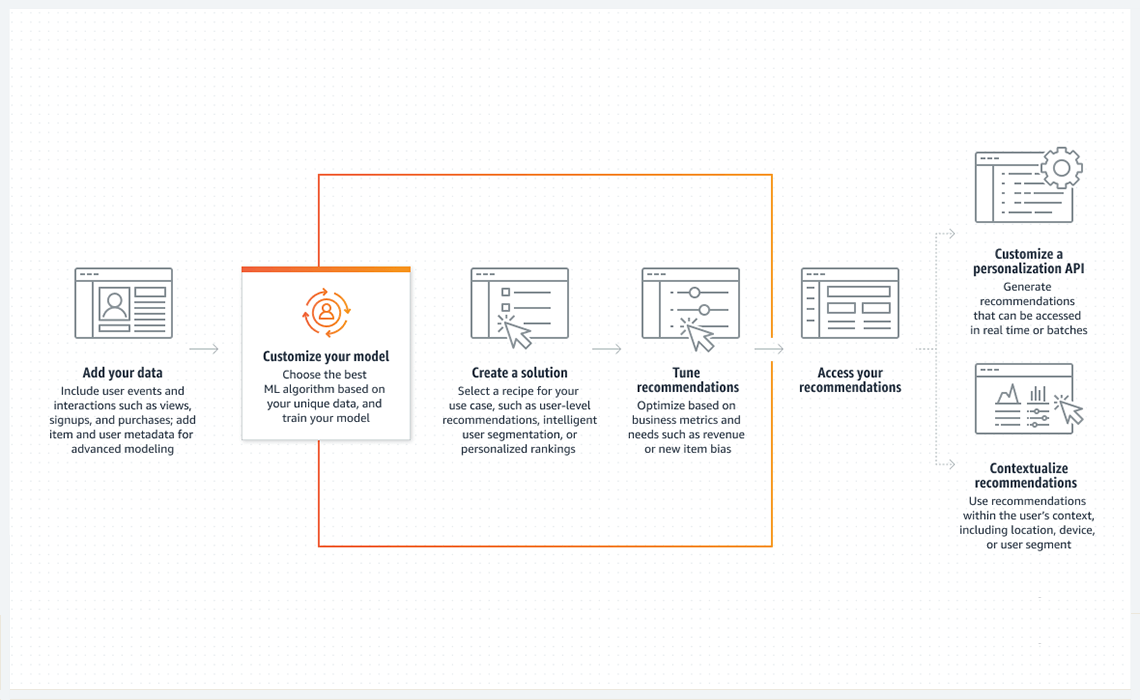 With Amazon Personalize, customers can leverage ML models and quickly deploy personalized recommendations and intelligent user segmentation at scale.
Netflix has picked up on this tactic, showing users recommendations based on movies they've already seen and movies that are popular with other users. Businesses worldwide are upping their game in providing personalized digital experiences, trying to get closer to customers, engaging them in ways they weren't exposed to before. From light, dynamic imagery and visual content to rich videos, 3d animation, graphics, etc. — digital assets are also proving to be a crucial element in personalization. For the brand itself, personalization starts with the data it controls – without effective management of its own product data, achieving these customer expectations would prove hugely challenging.
Product Experience Management (PXM) is a journey
As we look at how the experience-driven commerce world is evolving, providing hyper-contextualized, personalized buying experiences will be key to future business growth. That's why organizations need to constantly match product information with actionable customer insights. By applying PXM principles to your marketing and product management, you can ensure that every content element is deployed at the right time, in the right place, to the right persona, and that every data point collected is fed back into the development of the right products.
With the right technology stack in place, you can provide your customers with personalized interactions that reduce product returns, encourage positive product reviews and build brand loyalty. Just bear one thing in mind: PXM is not a project but a journey and it will continue to evolve alongside customer expectations.