Contentservs All-in-One Product Experience Cloud für das Managen und Personalisieren von Produktinhalten
Standard
Manage products/articles/SKUs, variants and collections
Manage images, videos and files
Data onboarding via import rules
Data validation at import
Configurable data model
Classification & inheritance
List of values
Metadata management
Internationalization management
Configurable dashboard
Search portal
Active jobs management
Roles & permissions management
Excel import & export
Version history & management
Automated workflows
Bulk editing
Multidimensional variants
Product channel management
Smart documents
Translation manager
Channel previews
Channel-specific image conversion
Multichannel publishing & syndication
SAML 2.0 connector with single sign-on
Import & export mapping editor
Import & Export REST API
Download tracker
Data Quality
Taxonomy management
Table configurator
Grid editor
Visualization (gantt & calendar) planning
Task management (Product Lifecycle Management)
Proof reader
Business rules engine
Customizable JSON REST API
EXIF, IPTC and XMP support
Professional
Manage products/articles/SKUs, variants and collections
Manage images, videos and files
Data onboarding via import rules
Data validation at import
Configurable data model
Classification & inheritance
List of values
Metadata management
Localization
Configurable dashboard
Search portal
Active jobs management
Roles & permissions management
Excel import & export
Version history & management
Automated workflows
Bulk editing
Multidimensional variants
Product channel management
Smart documents
Translation management
Channel previews
Channel-specific image conversion
Multichannel publishing & syndication
SAML 2.0 connector with single sign-on
Import & export mapping editor
Import & Export REST API
Download tracker
Data Quality
Taxonomy management
Table configurator
Grid editor
Visualization (gantt & calendar) planning
Task management (Product Lifecycle Management)
Proof reader
Business rules engine
Customizable JSON REST API
EXIF, IPTC and XMP support
Enterprise
Manage products/articles/SKUs, variants and collections
Manage images, videos and files
Data onboarding via import rules
Data validation at import
Configurable data model
Classification & inheritance
List of values
Metadata management
Localization
Configurable dashboard
Search portal
Active jobs management
Roles & permissions management
Excel import & export
Version history & management
Automated workflows
Bulk editing
Multidimensional variants
Product channel management
Smart documents
Translation management
Channel previews
Channel-specific image conversion
Multichannel publishing & syndication
SAML 2.0 connector with single sign-on
Import & export mapping editor
Import & Export REST API
Download tracker
Data Quality
Taxonomy management
Table configurator
Grid editor
Visualization (gantt & calendar) planning
Task management (Product Lifecycle Management)
Proof reader
Business rules engine
Customizable JSON REST API
EXIF, IPTC and XMP support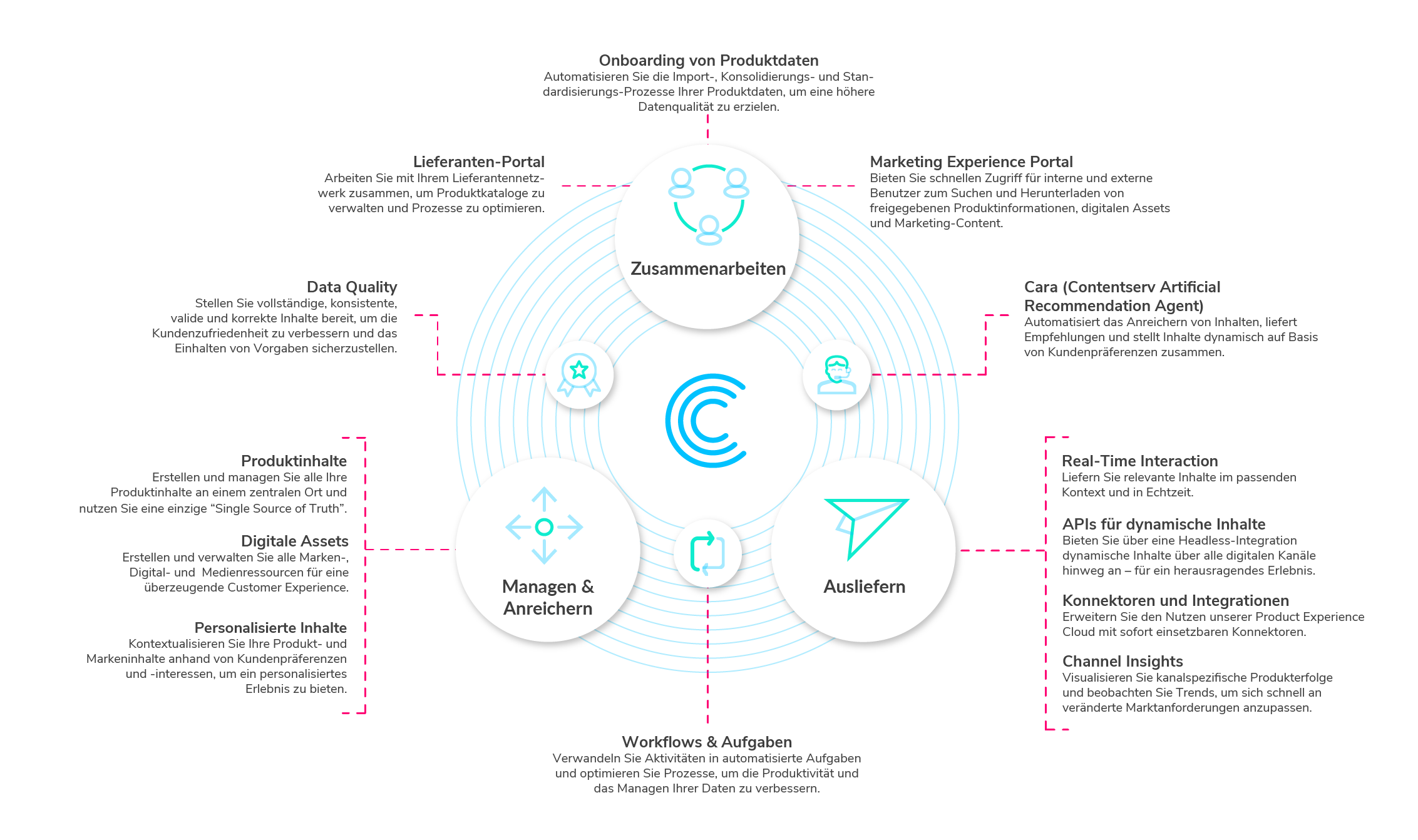 Contentserv ist eine stabile, sichere und skalierbare Lösung – bereitgestellt in einer Cloud-fähigen Infrastruktur. Für Sie bedeutet das ein geringes Risiko und eine reibungslose Nutzung
Mühelose Accountverwaltung

Keine Wartung von Hardware oder Software

Keine Abhängigkeit von IT oder Entwicklern

Direkte Ansprechpartner im Customer Success Team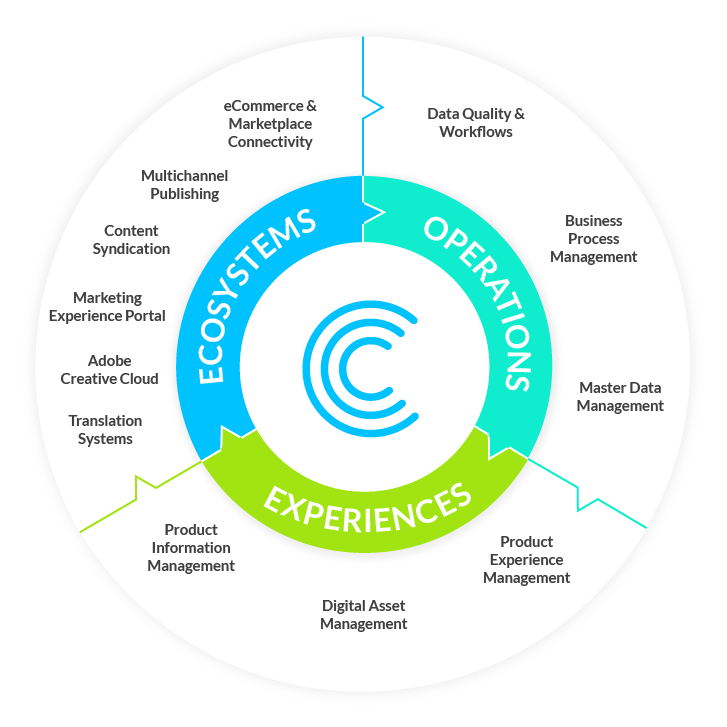 Vertrauen Sie auf Contentserv: Die Sicherheit Ihrer Daten hat für uns höchste Priorität
Contentserv ist nach ISO 27001 zertifiziert. Das unterstreicht unser Engagement, die höchsten Sicherheitsstufen für die Daten unserer Kunden aufrechtzuerhalten – aktuell und zukünftig. Die Zertifizierung beweist: Wir erkennen Risiken präventiv, minimieren diese so schnell wie möglich und sind bereit, alle drei Jahre die Richtlinien und Fähigkeiten zur Informationssicherheit überprüfen zu lassen.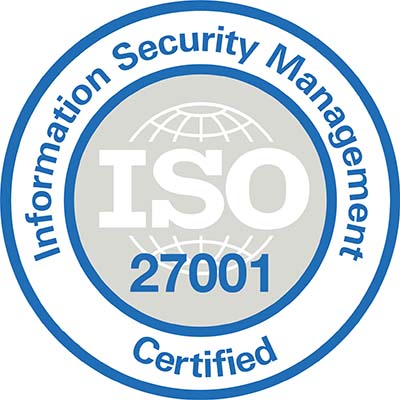 Weltweite Verfügbarkeit – zuverlässig und sicher
Sicherheit
Ihre Daten sind in sicheren Händen. Unsere Plattform ist zuverlässig, sicher und ISO/IEC- 27001 zertifiziert, um optimalen Datenschutz zu gewährleisten. Wir sind auch EU-DSGVO-konform, weil wir davon überzeugt sind, dass Sie die Kontrolle über Ihre persönliche Daten haben sollten.
Skalierbarkeit
Erweitern Sie die Contentserv-Plattform und fügen Sie zusätzliche SKUs zu Ihrem System hinzu, wenn Ihre Marke wächst. Wir machen es Ihnen einfach und passen uns den individuellen Anforderungen Ihres Unternehmens an. Benötigen Sie ein kundenspezifisches Setup? Kein Problem, das können wir auch anbieten.
Time-to-Value
Sparen Sie Zeit und starten Sie mit unseren vorkonfigurierten Lösungen, die wir für Sie erstellt haben, voll durch. Mit Contentserv müssen Sie keine langwierigen Projekte aufsetzen, um die Software zu implementieren und zu installieren. Sie können alles einfach an Ihre Anforderungen anpassen und schnell live gehen – ein ROI-Gewinn.
Training & Support
Wir bieten umfassende Schulungs- und Support-Services an, damit Sie Contentserv optimal nutzen können. Unsere Experten (Partner und In-House-Spezialisten) bringen Ihnen den sicheren und effizienten Umgang mit unserer Plattform bei und sorgen für eine reibungslose Nutzung. Und wenn Sie Hilfe benötigen, steht Ihnen unser Support-Team gerne zur Verfügung.
Cloud-basiert
Unsere End-to-End-Plattform für Product Experience Management nutzt eine fortschrittliche Cloud-Technologie, um eine sichere, hoch-skalierbare und benutzerfreundliche Infrastruktur bereitzustellen. Unsere Cloud-basierten Lösungen sind zudem einfach zu nutzen: Sie benötigen keinerlei zusätzliche Hardware- und Software-Wartung oder gar ein eigenes IT-Team.
What is Master Data Management (MDM)?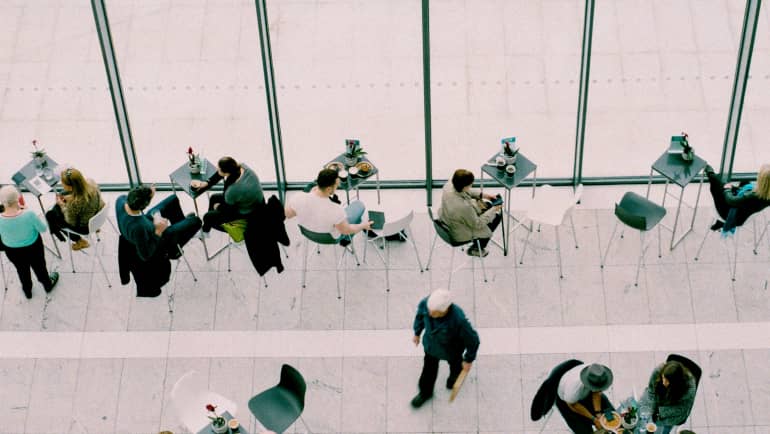 Reduce data duplication
Maximize efficiency and accuracy when consolidating critical data from multiple systems and sources into one central location to get a single view of master data by creating Golden Records.
Increase confidence in your data
Organize, define and implement policies, procedures and standards for your data to produce high-quality information that is valuable, relevant and timely.
Deliver valuable product experiences
Link product data to other data domains such as supplier, location, and even digital assets for a complete 360-degree view of information.