About Lacoste
Since the creation of the first polo shirt in 1933, Lacoste has relied on the authenticity of its sporting roots to bring optimism and elegance all over the world thanks to its unique and original universe for women, men and children. Ambitious to be the benchmark player in high-end casual wear, the Crocodile brand is now present in 120 countries through a selective distribution network. Lacoste, managed since 2015 by Thierry Guibert, employs 10,000 people, has 10,600 points of sale, including 1,200 of its own branded stores, 20 e-commerce sites, and has a turnover of more than €2 billion.
The challenge
Lacoste's digital transformation efforts aim to amplify the brand's global omnichannel development. The goal is to move from a classic pure player to a brand present in all sales channels, offering unique shopping experiences to its consumers all over the world. This digital transformation is led by the Digital Factory, an internal entity established to preserve Lacoste's "premium" identity and global reputation while also offering a personalized experience to its customers. This entity built a good software infrastructure based on several pillars which include Enterprise Resource Planning (ERP), Order Management System (OMS), and Digital Asset Management (DAM). In addition, a merchant site has been created to develop e-commerce activity.
However, with a fast-moving ready-to-wear market, the colossal manual entry of different product data (6,000 color references per season, assortment tracking, product feature updates in different languages, etc.) became extremely challenging. Furthermore, primarily using spreadsheets for this purpose was very time-consuming and error-prone. These files quickly became archaic in the context of Lacoste's digital transformation and they would often contain numerous data entry errors, which resulted in a slow time-to-market that was harmful to sales. Another major challenge involved variable data such as collections, which must be renewed every six months and had to take into account the difference between the Northern and Southern hemispheres.
Therefore Lacoste needed to adopt a tool that would streamline the creation and distribution of its product catalogs on both its merchant and marketplace sites. This made it clear that Product Information Management (PIM) was the right solution to quickly enrich databases, accurately aggregate content, and shorten time-to-market, all while increasing agility and flexibility.
Requirements
Lacoste's primary objectives were to present the brand consistently and uniformly across all distribution channels, and above all, to offer a more engaging product experience to all its customers. Indeed, optimal customer experience on e-commerce sites is critical to meet the requirements of today's consumers.
In addition to these initial objectives, there were two other quantified objectives: the implementation of the PIM solution should make it possible to increase the average value of orders and reduce product returns.
Lacoste evaluated five PIM solutions, and at the end of 2016, they selected Contentserv. Contentserv allows data to be quickly onboarded and adjusted via user-friendly, intuitive interfaces, and for information to be distributed across all sales media. A pioneer in the PIM industry and a leader for 20 years with an international customer portfolio, Contentserv has extensive experience in product information management.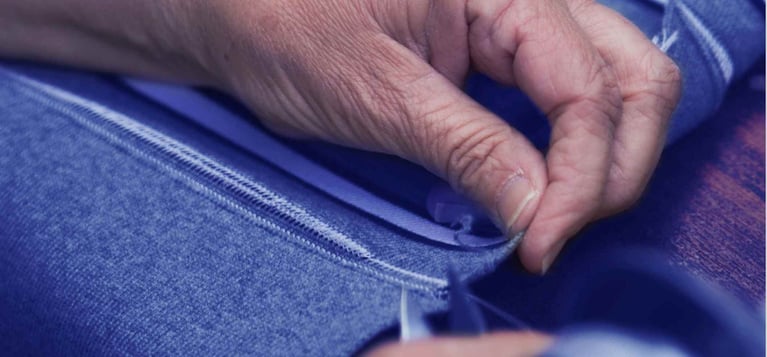 Implementation
Lacoste mobilized all its internal resources, and with the direct assistance of Contentserv and its implementation partners, the go-live took place in November 2017. In addition to the PIM module, key components were implemented such as Translation Manager to easily translate product descriptions and attributes, Salesforce Commerce Cloud Connector which enables the automatic transfer of the data to the shop system, Smart Documents to quickly output documents in a variety of formats, and Workflow Manager to create clear and automated processes with graphical visualization. Forty authorized users work daily on Contentserv's platform and have complete control of the data. By leveraging a 360° overview of all products and data required, they can simplify processes and rapidly implement various commercial sites.
Today, the Contentserv PIM platform is fully managed by Lacoste's Information System (IS) IT team. Moreover, users from many different departments utilize the platform every day. To maintain the tool in real-time, IS IT specialists developed the skills necessary to become subject matter experts to assists employees using the Contentserv platform. Also, the connector linking Contentserv to Salesforce's Commerce Cloud was redeveloped to fully meet the high volume of operations.
Results that matter
By adopting Contentserv's PIM solution, Lacoste boosted both its online and in-store marketing processes. The creation of product catalogs became more industrialized and powerful as workflows made it possible to quickly establish tasks and accelerate entire processes, thus providing Lacoste employees with significant productivity gains. As a result, users of the tool are able to focus entirely on their core business with greater flexibility in editing modalities and ensuring complete and instantaneous visibility across the entire system.
The Contentserv PIM solution provides great flexibility in data generation, with users managing an impressive amount of data (2,400,000 attributes, 24,000 references, and 172,000 ean/UPC barcodes). Export procedures integrated into the solution speed up the automatic creation and editing of catalogs and web pages, allowing Lacoste to export up to 40,000 items daily. Users can then assemble images, technical attributes, and prices by simply dragging and dropping them onto dynamic models subject to pre-established rules.
Other significant advances include the ease of creating new attributes such as information that allows consumers to refine their choices and maximize their shopping experience. This process used to take several months and now takes only 2 or 3 weeks. Furthermore, as fashion is governed by seasons, it is necessary to reconfigure entire offerings every six months. The Contentserv PIM solution allows Lacoste to maintain the attributes (about 300 per product) of the models that remain on sale, and thus, avoids rebuilding the catalog from scratch.
"To our great satisfaction, the solution has been working perfectly for two years, and the first objectives of this implementation have been achieved."

Chief Information Officer, Lacoste